Hi Folks
There are a lot of entertainers you can hire. But how do you know which entertainer will make your event special? How can you be sure you'll get the best entertainer for your investment? And most important: how can you be sure the person you hire knows what it takes to entertain kids?
The answer: Hire a Kid-Show Specialist.
For kids' parties and family events, you want entertainment that's visual, easy to follow, and naturally hilariously funny. Children love situational comedy, where crazy stuff happens and everyone enjoys the fun.
So what do you want? You want a professional magician!
You want a magician who has spent years working on and perfecting his programs. You want a magician who has performed literally thousands of times in front of live audiences. I specialize in affordable children's parties. There will be plenty of age appropriate tricks and gags, balloon sculpting, Juggling, jokes, stage and close-up magic, live music and more. Most importantly I focus on child participation for the entire audience with your child as the star.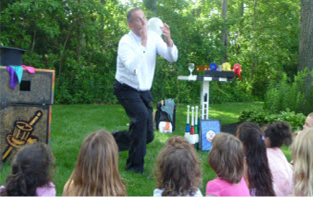 It Sounds Fantastic! But can I afford such a fabulous magic show?
My party package solutions range from $150.00 to $400.00 So there's a package friendly to every family's needs. And if one of my standard packages doesn't fit just right, I can craft a solution personalized to your specific requirements.
Contact me today to learn how easy it is to throw a party that will create wonderful memories to last a lifetime. You can email me at charlesdobrow@gmail.com or call (631) 708-5448

Call now and together let's make your child's next event totally amazing, fun, and unforgettable!
P.S. Your satisfaction is guaranteed!